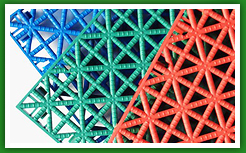 While Genesis Sport offers a wide variety of selection and can manufacture most any turf you need. Below are some of our most popular choices.
No obligation Quotes & Advice
Genesis Sport Court Tile & Rubber Surfacing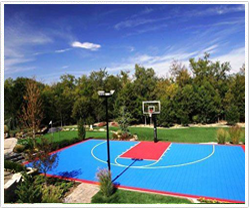 Genesis Rubber Playground Surfacing dramatically reduces the need for ongoing maintenance and provides your sport court, playground, and garage with the safest surface possible. Genesis custom tile, bonded rubber mulch and poured-in-place rubber surfaces can turn any application into a virtual canvas with custom patterns, lines and logos. We will help you customize colors and craft a truly unique, safe surface and look.
Home Landscaping Surfaces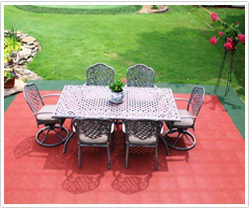 Genesis bonded rubber mulch delivers a natural-looking, healthy growing environment for your plants and trees while inhibiting weed growth. Our mulch allows moisture to pass through and gives you a beautiful, fade-free material for paths, walkways and landscapes. You shouldn't have to work hard to keep your yard looking great. Genesis gives you everything you need for beautiful, low-maintenance landscape in every corner of your property. From artificial turf to rubber mulch everything we offer is environmentally friendly and safe for kids and pets. Give Genesis Turf a call and we will work with you to ensure you get everything you need for a beautiful new landscape that will last for years and years.
Our Genesis Bonded Rubber Mulch Is:
ASTM approved & ADA compliant
Comes in a variety of styles and colors
Clean & non-toxic
Porous surface drains quickly
Prevents soil splashing
Helps control erosion
Provides weed control
Quick Drying
Benefits of Genesis Playground Turf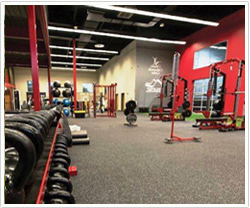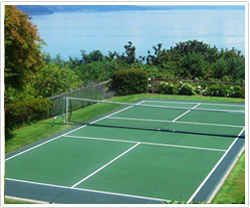 Between kids being kids and the weather being unpredictable, playground surfaces can take quite a beating. Compare the benefits of Genesis Rubber Playground Surfacing:
Meets ASTM F1292 requirements for up to a 12″ fall height
Certified for its safety by the International Play Equipment Manufacturers Association (IPEMA
ADA compliant
Slip resistant and easy to maintain
Any design, configuration and dimensions
Certified:
Genesis Rubber Playground Surfaces are certified for safety by the International Play Equipment Manufacturers Association.
Custom Designs:
Our Surfaces can be installed to any color, shape or design. Need a custom logo, lines, or numbers? No Problem!
ADA Compliant:
Genesis Rubber Surfacing ensures safety and reliability.

Static Block
Our revolutionary Static Block technology is built into the fiber to reduce static build-up on the playground surface.

ADA compliant
Genesis mulch ensures safety and accessibility across installations.

Ipema Certified
Genesis mulch meets ASTM 1292 requirements.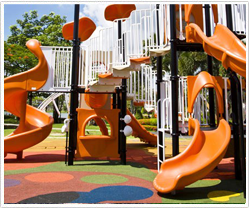 Genesis Custom Tile brings a beautiful, customizable surface to your patio, garage or utility area. Slip resistant both indoors and out, the anti-microbial surface will not mold and is easier to clean and maintain than concrete or other surfaces. Our patented six-point locking mechanism ensures the flattest most
responsive surface available. Combine this with our open grid design allowing rain to drain through the court tiles, eliminating the need for sweeping or sponging puddles.
Reduces strain on the lower back and knees caused by long periods of standing on concrete
Slip resistant and easy to maintain
Installed indoor and outdoor
Customized surface is available in any design, shape or dimension
Anti-microbial surface resists mold
Installs over existing concrete surfaces